The Story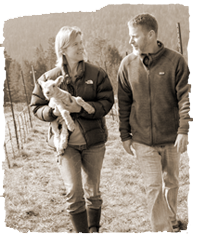 Jason and Molly Drew started Drew in 2000 with a clear pursuit in mind: to craft small lot, cool climate wines that express site distinction and traditional varietal character. Their moment came when they stumbled upon an old 26 acre apple orchard within the Mendocino Ridge Appellation. While others saw a daunting project in this old forgotten orchard, Jason and Molly saw ancient oceanic soils, south facing slopes at 1250 ft elevation, putting them just above the fogline and a true coastal climate, with the ocean a mere 3.3 miles away. It didn't take long for them to decide to leap and leap they did. The Drew estate winery at Faîte De Mer Farm was born.
The eight acre estate vineyard was planted to a collection of California heritage field selections, suitcase selections and several Dijon clones of Pinot Noir. Additionally, two acres of Chardonnay were added along with a small truffle orchard to accompany the remaining 14 acre apple orchard. Faîte De Mer Farm is certified organic, continueing a 30 plus year tradition of farming to this standard on this site.

Jason is a true vigneron having spent many years honing his skillset in vineyard farming and winemaking, having studied in both the northern and southern hemispheres, in Agroecology, Viticulture and a Graduate Degree in Enology from the University of Adelaide. He has worked for several noteable northern and central California estate wineries and vineyards including St Supery alongside Kirk Grace as well as Joseph Phelps with Craig Williams, Luna with John Kongsgaard, Carmenet with Jeff Baker, Corison with Cathy Corison and Babcock Vineyards with Brian Babcock, totalling 29 years in the industry.
While Faîte De Mer Farm remains their passionate focus, they also hold several Anderson Valley & Mendocino Ridge sites in high esteem. Single vineyard sources are chosen for their climate, clonal selection and complexity of soil type as well as a commitment to meticulous and sustainable farming practices. Winemaking practices remain focused on traditional methods that include whole cluster and native yeast fermentations, hand punchdowns and in most instances, no fining or filtering.